Bulk Vending Machine Business
Beaver Tales – United Vending Service

Watch United Vending Service Interview on Beaver Tales
"Beaver Machines provides a great variety of different setups so we can mix and match capsules and candy and different size racks that really helps fit the needs of a particular location rather than having to try to squeeze something in or make something work that wasn't specifically made for that location. "
~ Alyssa Kessler, United Vending Service
Beaver Machine will host interviews with bulk vending machines industry experts to unite this unique marketplace and help to inspire other owners or those looking to get into the toy and candy machine business.
Below is a transcript of our first interview with Alyssa Kessler from United Vending Service and Beaver Machine's Heidi Schwarzli.
Beaver Machine presents,  "Beaver Tales" — Bulk Vending Machine Business Stories that showcase experts in the bulk vending community.
Whether you are a veteran machine owner managing multiple machines and locations or considering joining the bulk vending machine business as a new commercial venture, these stories will inspire and connect you with others in this niche marketplace.
This Beaver Tale features special guest, Alyssa Kessler, from United Vending Service.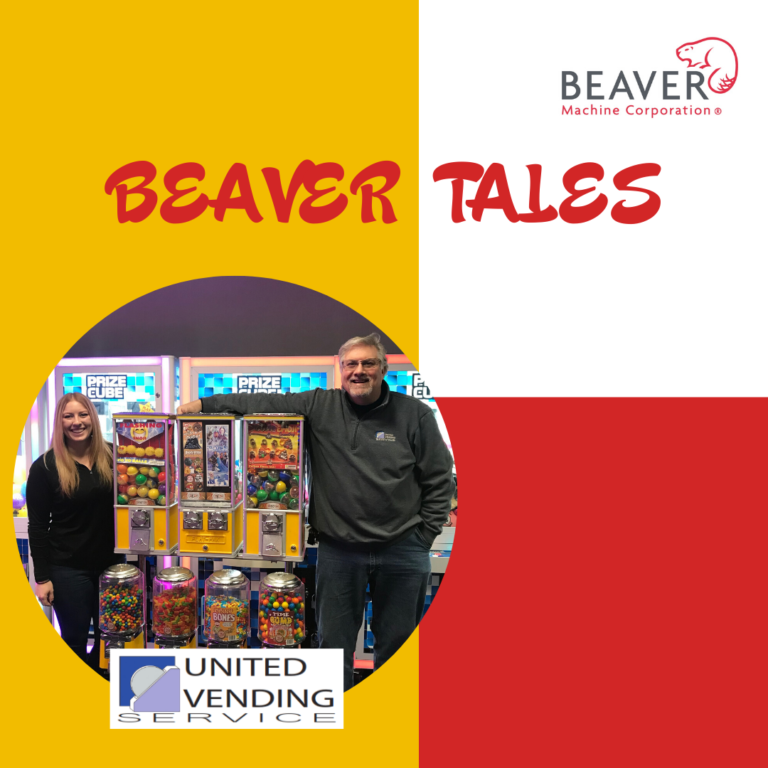 Transcript Starts Here
Heidi
Hi everyone. My name is Heidi
Schwarzli from Beaver Machine Corporation. I'm excited to introduce to you
today to Alyssa Kessler from United Vending Services on our new show called
Beaver Tales.
I hope that you're going to
learn a little bit more about life as a bulk vending professional and enjoy
hearing from our guests who are willing to share some of their tips on how they
got into the business and what makes them special.
Alyssa, you're in the business
with your Dad. Tell us about a bit about your company and how you got into the
bulk vending?
Alyssa
My dad started the company
about 36 years ago, and started with a few video games and grew from there. We
do everything from video games, jukeboxes, redemption games to ATM snack vending
and obviously bulk vending as well.
Heidi
So, you have been doing this a
long time.
Alyssa
We have been – my dad much longer
than me though.
Heidi
How do you distinguish yourself in the market? You've been doing it for many years?
Alyssa
We pride ourselves on our
equipment and the quality of the product that we have. We always tried to keep
the most popular and latest styles out on our locations.
Heidi
What's one of your most
popular products right now that you find is really doing well for you?
Alyssa
As far as bulk vending goes, our most popular product is a candy product like Mike and Ikes and also peanut M&M's. We can't even keep them on the shelves – people just love them!
Heidi
Do you have a personal
favorite?
Alyssa
I do. Personally, I love runts
and we just brought them back and I've been loving taste-testing them.
Heidi
What do you love about the
bulk vending business?
Alyssa
It's ever evolving and a huge
part of it is merchandising. I love being able to research and follow the trends
and put out there what's popular and what people are going to want to spend
their money on.
Heidi
I had a question for you about
the Beaver machine specifically. What is it that you love about working with
the Beaver machines on location?
Alyssa
Well, we certainly love the
quality of the machines. We typically don't have any issues with them
whatsoever as far as service goes, which is always great.
They have a great variety of different setups so we can mix and match capsules, candy and different size racks that really fits the needs of a particular location, rather than having to try to squeeze something in or make something work that wasn't specifically made for that location.
Heidi
What do the locations like
about working with your company specifically?
Alyssa
We are highly responsive. It wouldn't be unusual for us to get a service call at 11:00 pm on a Friday night and not be out there that same night to fix the equipment or service whatever the issue is.
They like the attentiveness
and it's very easy to be able to get a hold of us where I know that some other
places, they might wait until Monday to get out there, but we want to make sure
everything's up and running as much as possible.
Heidi
You are on call 24/7. That's a lot. What type of geographical locations do you run routes that allows you to manage that type of responsiveness?
Alyssa
We basically work in the
central New York area. We're located in Syracuse, New York, so we do about a 70
to 80 mile radius around us.
We have a pretty big
footprint, but we make sure that it still is not too much of a response time if
anything were to happen for us to get out there.
Heidi
That's a good thing for
locations because that works for them. Do you have a funny story or a tale to
share about servicing your machines?
Alyssa
I was talking with my dad
about this to see if he had any insight for me. He did tell me there was a family
that was at Pizza Hut and he got a call from the manager who said that there
was an issue with one of the games. He popped out there to see what was going
on.
This family had pool table bouncy
balls that we used to sell and they were all spread out on a table and they
were trying to get full sets of everything. They completed a couple of
different sets but needed to make sure they had enough for all of their
children. They couldn't get certain numbers and wanted to know if there's
anything we could do to help out.
It's funny the extent someone
will go to for a full collection of bouncy balls out of a bulk vending machine!
Heidi
What advice would you have for
people getting into the industry?
Alyssa
Variety is definitely key when
it comes to bulk vending. It's an extremely visual industry. The most important
part of it is to keep your machines clean, keep your products fresh and make
sure you are following the trends.
People are not going to want
to spend on things that they have not seen in stores for years. Keep it fresh, popular
and up to date to be successful.
Heidi
That is great advice! My last
question is what's the best part about working with your dad?
Alyssa
Well, we have a great relationship
and we always get along really well and he's generally pretty easy going with
me. He's a great mentor to learn the business from. He's been in the business
since high school and his uncle had a similar business.
He's definitely been around
the block and it's great learning from someone who's willing to teach you
everything he knows and one day be just like him.
Heidi
That's amazing. Thank you for
your time today, Alyssa. We hope that other bulk vending business owners or
those considering getting into the business have enjoyed hearing from you and
your dad's experience.
You can like us or follow us
on social media to watch future Beaver Tales and thanks again. Goodbye for now.
You may also be interested in our interview with Integrity Vending, https://beavervending.com/bulk-vending-machine-business-beaver-tales-integrity-vending/

Reach out to Alyssa at United Vending Service, based in Syracuse, NY.
Office: 315-449-0706