Bulk Vending Machine Business
Beaver Tales – Integrity Vending

Watch Integrity Vending Interview on Beaver Tales
There's no doubt in my mind that your coin mechs are superior.
~ Trina Monroe, Integrity Vending
Beaver Machine will host interviews with bulk vending machines industry experts to unite this unique marketplace and help to inspire other owners or those looking to get into the toy and candy machine business.
Below is a transcript of our first interview with Trina Monroe from Integrity Vending and Beaver Machine's Heidi Schwarzli.
Beaver Machine presents,  "Beaver Tales" — Bulk Vending Machine Business Stories that showcase experts in the bulk vending community.
Whether you are a veteran machine owner managing multiple machines and locations or considering joining the bulk vending machine business as a new commercial venture, these stories will inspire and connect you with others in this niche marketplace.
This Beaver Tale features special guest, Trina Monroe, from Integrity Vending.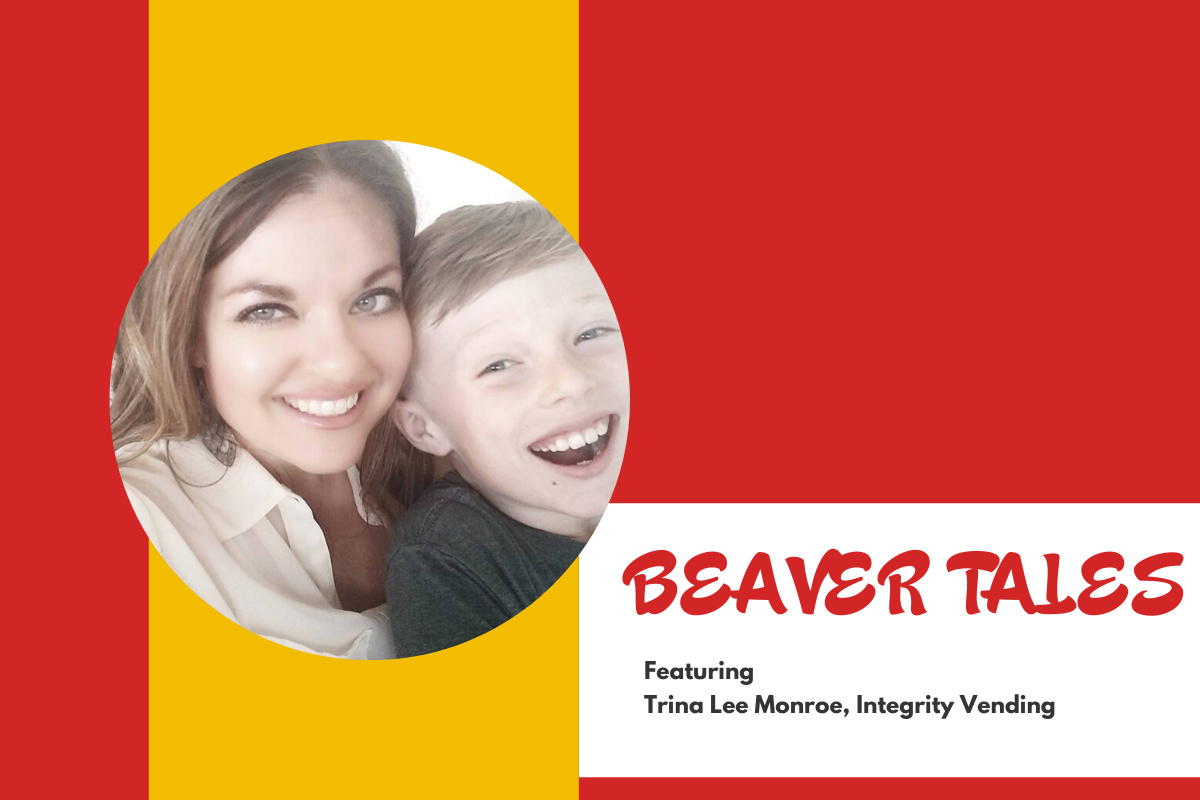 Transcript Starts Here
Heidi
Welcome back to Beaver Tales. I'm Heidi Schwarzli from Beaver Machine Corporation. 
Today we're going to be talking with Trina Monroe from Integrity Vending. 
Some of you might recognize Trina. She has a very strong Instagram presence showing us the day to day operations of running her business with her son. 
Trina, we're so excited to have you. Thank you for joining us today.
Trina: I'm so excited to be here. It's an honor. Thank you for having me on your program.
Heidi: Tell me a little bit about your business and how you guys got into it?
Trina: Well, we started by reading a book. It was Dave Ramsey's daughter that wrote it. In this book, she mentioned they had a vending business when she was young. I thought, boy, that would be a really good project to do with my son. So about two summers ago we bought these snack boxes and we went around town and we filled them with snacks and we placed them in different break rooms and different retail establishments. We had a lot of fun with it and had a good time learning how to count coins and money. With our profits, we bought a big bunch of used gumball machines and inside that big lot of used gumball machines were some Beavers mixed up in there. And I quickly decided, oh yeah, this is my favorite. And there were a lot of other good machines in that big lot, it was a trailer load of machines.
Heidi: How do you distinguish yourself in the market from other bulk vendors?
Trina: I've noticed that some don't keep their equipment clean. So my son and I work really hard at cleaning our equipment every time we're there. The Beaver machines are… really… there's not a lot of maintenance. I think we distinguish ourselves with our machines because they're easy to clean, they're low maintenance. Your coin mechs are uncompromisable. I mean, they're the best. They're just, they're never jammed… they're… I don't know. I think our machines are superior to everything out there. So, I it's easy to distinguish ourselves.
People don't want you bringing in some junky machines into their retail establishments.
Heidi: What are three tips you would give for growing your business?
Trina: Locate, locate, locate every day. It's one of the harder things to do, I think in this business because there is rejection involved and it's always hard to hear no. But the more you do it, the better you get at it.
#1 – I would say locate, locate, locate. You have to outrun the boulder because management is changing it.
#2 – I would say find ways to keep really good records of the money that you're bringing in and the money that's going out. Even if you only have a couple of gumball machines, keep really good records and keep good records of when to go back and service. So I think record keeping is a really good starting point and growing your business because if you start when you're small, it's going to be easy to implement that habit as you grow and it'll help out. 
#3 – I would say just have a whole lot of fun. Make it fun, if it's not fun…..
Heidi: You talked about record keeping. Is there something specific that you do in your business that you could kind of recommend?
Trina: The program or software that I use is called Ventrac. And when I bought that big load of gumball machines, the vendor that sold me that kind of gave me some tips and had mentored me. And um, so he highly suggested using Ventrac and I'm so glad I started with it. I started with Ventrac just with maybe five machines that I had already located. Um, and just now it's just growing, growing, growing.
Heidi: What do you love best about the bulk vending industry?
Trina: I love that it's such a colorful business. It's such a colorful industry. It's vibrant and colorful and it's fun and I love kids and kids are involved.
Heidi: What is your personal favorite product to test and then what is the most popular with your customers right now?
Trina: My most favorite product to test would be peanut M & M's and Skittles. I love peanut M & M's.
The product that I will always keep in stock and that sells the best are the Little Ninjas, one inch capsules. Yeah. And maybe those are just near and dear to my heart because when my son was a little boy, every store we went, he wanted a Little Ninja. And it was going to the back of my mind – I gotta get on the other side of this. Like I'm putting quarters in here all the time… I want to get some of these machines and put Little Ninjas of my own in there. But, um, I would say, my favorite and my best product are the Little Ninjas capsules.
Heidi: What do you love most about working with Beaver machines?
Trina: There's no doubt in my mind that your coin mechs are superior. I love, I love Beaver Machines!
Heidi: Well, thank you. It really makes us smile to hear that because we work very hard, like it's a family business for us too. And from the inception of our company, it's truly what we focus on is believing in making our operators, our customers, their lives easier is going to make them successful. 
Trina: Wow, I would love to hear more. I'd love to hear more about your guys' story.
Heidi: I'll have to tell you more about that.
Trina: Yeah, for sure. Oh, that's exciting. It really shows Heidi because they are easy to use. They're very easy to use.
Heidi: What advice would you give to people that are just starting out?
Trina: I would say overcome the fear of locating, locate, locate, locate. Don't take rejection personal. Keep good records, really good records. Right from the beginning. You might feel like you're small and you don't need to keep records, but if you have intentions to grow, you need to start keeping good records now. So I would say keep good records. Then I would say HAVE A LOT OF FUN!
Heidi: Where do you geographically run your routes?
Trina: We're in mid Michigan, so we're probably in for four or five cities in Michigan right around here.
Heidi: What do locations love about working with your company? 
Trina: I think they really enjoy seeing my son and I heard that from several people. Like we really admire that you're teaching your son business, you're teaching him how to count money, how to earn money… This is Brighton Beaux!
Heidi: Hi Brighton, it's so nice to meet you! Hi! I get to see you on Instagram all the time working with your mom on locations. So it's nice to see you because you seem so famous to me all the time!
Trina: That's funny because Miss Heidi is kind of famous to us. Do you know where she works? Beaver Corporation!
Heidi: That's true. We really enjoy watching stories like you and your mom because you guys are why we do it. Like that makes us so happy seeing when you're out there working on location and together because I'm a family business too. My grandfather started the company and now I work with my dad and my brother too. So family business is special to us.
Trina: That's awesome. That's really cool.
Heidi: As a mom and a business owner, what is the best part about working with your son?
Trina: Oh, there's a lot of good parts about that. Um, wow. The best part is that he's with me. He's learning from me. He's not in a daycare. Um, in the evenings when we go out to service machines or on the weekends, he's with me. And so I'm able to teach him and help him learn business. I love that. I love it that it's time for us to be together. 
That's it for Beaver Tales this month. Like, and follow us on social media to find future episodes and then follow Trina at integrity vending. She's got that strong presence and it's so much fun to watch her and her son's everyday life.
Thank you to Trina Monroe, Owner of Integrity Vending. Follow her online for more tips and entertaining experiences of being in the bulk vending business. She can be found on:
Instagram @ https://www.instagram.com/integrityvending/
YouTube @https://www.youtube.com/channel/UC6ol0er0WbFZvr7UUwsaw7g